Malaysia – Senibong Golf Club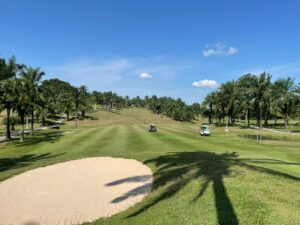 Originally known as Poresia Golf Club, it was established in 1990, within a panoramic natural landscape of a former palm-oil plantation and boasted a championship golf course designed by Pete Dye, the renowned international golf course designer. The original layout contained four interchangeable 9-hole loops; presenting a challenging course to cater to both amateur and professional golfers.
In 2018, the club was acquired by Walker Corporation, one of the Australia's largest private development companies. The golf course has since undergone an extensive reconfiguration and refurbishment programme to transform it into a spectacular 18-hole golf course that retains the traits of the original design. In 2020, the golf club was renamed Senibong Golf Club.
This 18-hole golf course presents a perfect golf experience for players of all abilities, with natural environs of palm-oil trees, flowers, flowing streams, and tropical birds.
The front nine is challenging from the start to finish, extracting every ounce of skill from the golfers. It offers the golfer a wide fairway to hit off the drives and challenges the approach with uneven contours. The back nine sets its style with its undulating terrain lined with palm-oil trees. The fairways are flanked by large sand bunkers and deep troughs beyond the first cut. Its terrain surprises with more water hazards that test the golfer's judgment.
A few of the holes have creeks crossing the fairways twice; setting up some excellent risk-reward opportunities for long hitters. The wonderfully elevated tee boxes provide excellent views of the long downhill and surrounding natural landscape.